Decorative Landscape Stone
Bonar's Quarry, Letterkenny Co. Donegal.
Supplying Donegal Rose Quartz Decorative / Landscaping Stone used for driveways, patios and landscape gardening.
This is a stone unique to the area of Muckish Mountain near Falcarragh Co. Donegal.
Delivering tonne bags and bulk loads throughout Ireland, Northern Ireland, UK & Scotland
We have 20mm decorative stone and 10-14mm chips for driveways, patios and landscaping.
Delivering tonne bags and bulk loads throughout Ireland, Northern Ireland, UK and Scotland.
Site Clearance
Block: Standard Block:
Bonar's Quarry manufacture extensive range of standard blocks from the highest aggregates produced in our own quarry. They are available in all sizes, suitable for plastering.
Technical Specification
Compressive Strength:
Available to 1.5 EN771-3 (Solid) 7.5N/mm2
10N/mm2
13N/mm2
Thickness Options 450mm Range: 100mm / 140mm / 225mm / 350mm / 300mm
Standard Concrete Blocks
I.S. EN 150 9001 : 2000 Quality Management System
I.S. EN 771-3: Specifications Of Masonry Units – Parts
Aggregate Concrete Masonry Units using NSAI, System 2+ Certificate Of Factory Production Control.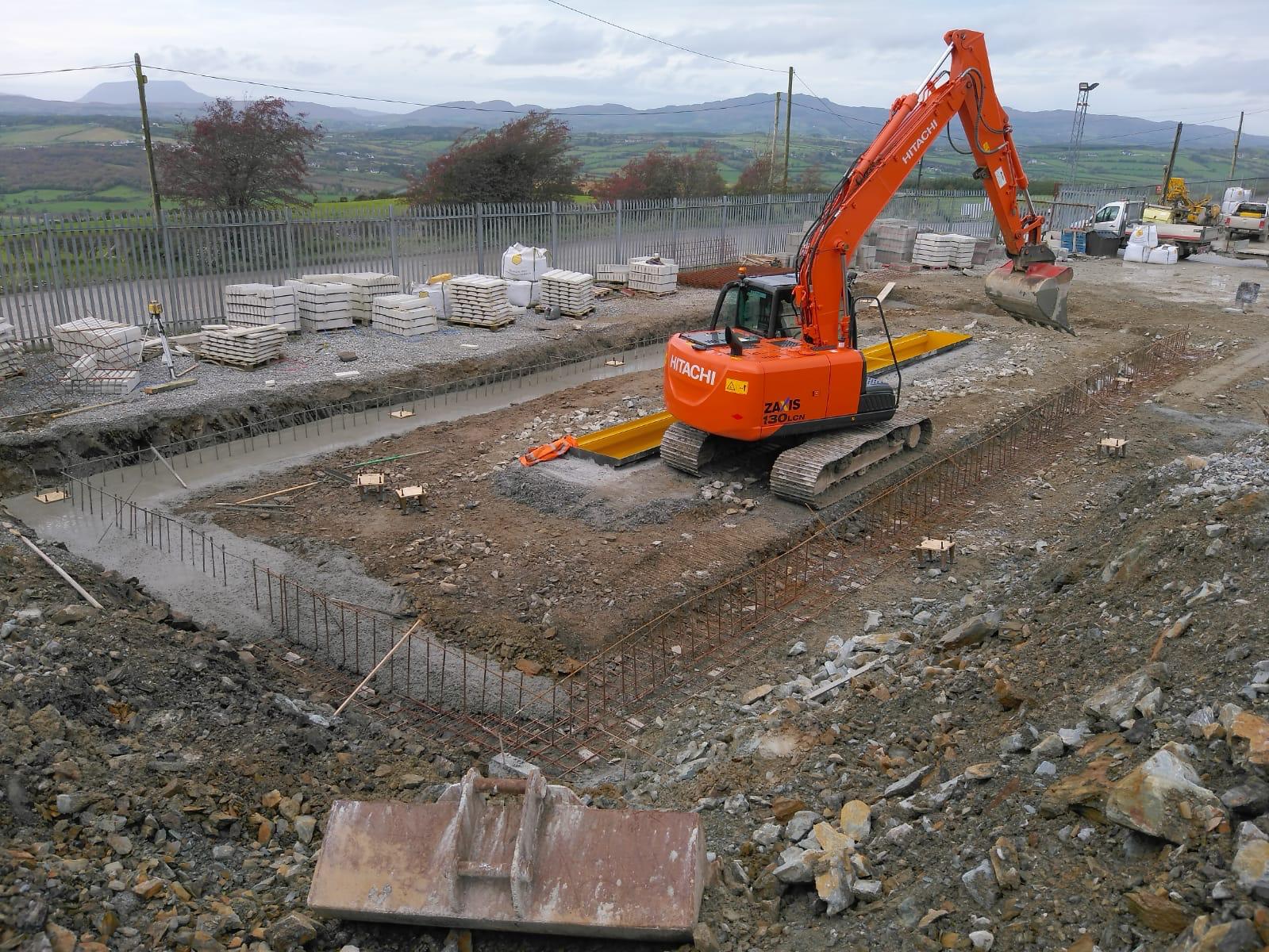 Screed Floor
A screed floor Laid by Gerard McDaid contractor in Killea, Co Donegal and installed 11th Feb. The contractor is very pleased with the ease of installation ( compared to cemfloor ) as there is no " spraying /curing agent" required. In addition he said the finish is great and so strong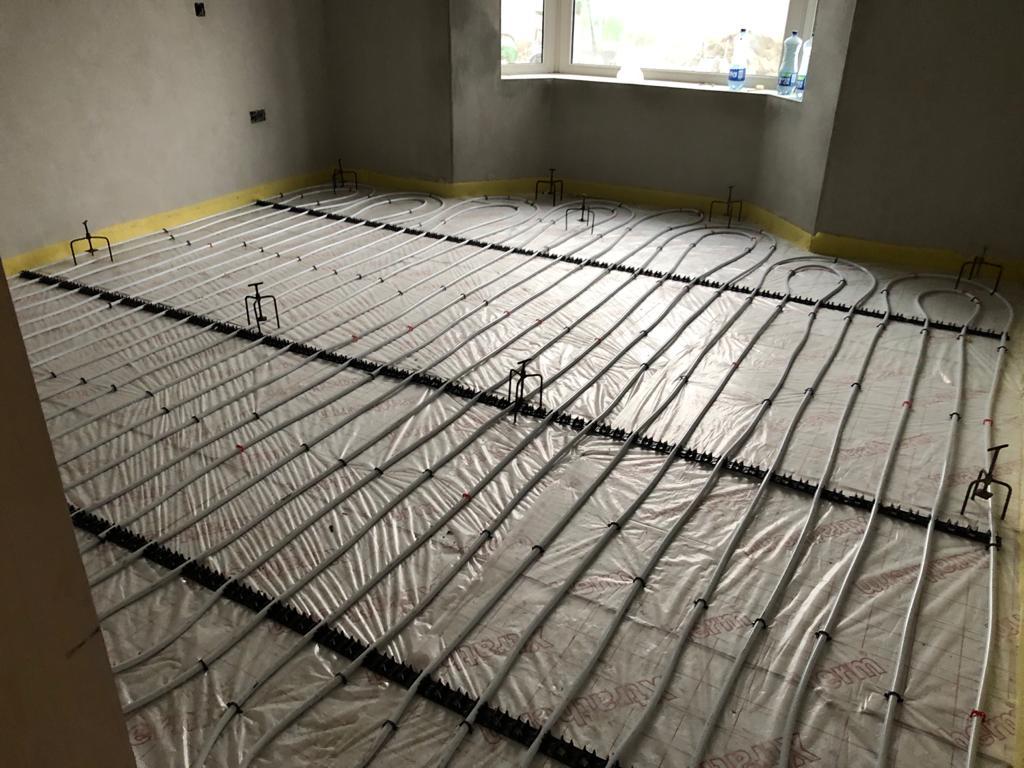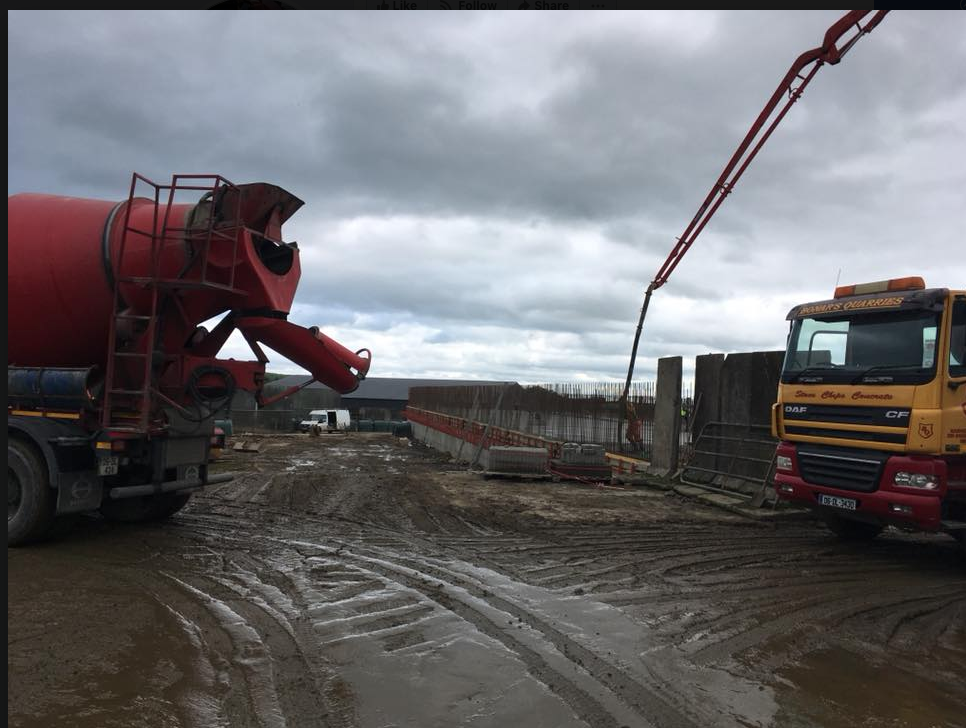 Sand
Washed Sand is all sourced locally. There are two different grades of sand.
1) Concrete Sand (coarse sand suitable for brick paving)
2) Fine Sand (suitable for plastering work)
All sands are used in the manufacturing of Readymix Concrete
Concrete Products
We produce a large selection of Concrete Products.
Precast Lintels & Sills for new builds and extensions.
Lintels Sizes: 6 x 4, 9 x 4 & 4 x 3.
Which are available in different lengths.
Cills: There are two different Face Sizes.
Heavy: 4" Face, Light 2"
All available in different lengths.
Septic Tanks – Figure 8: Capacity 3000 – 4000 LTRS. Sizes available 6', 7' & 8'.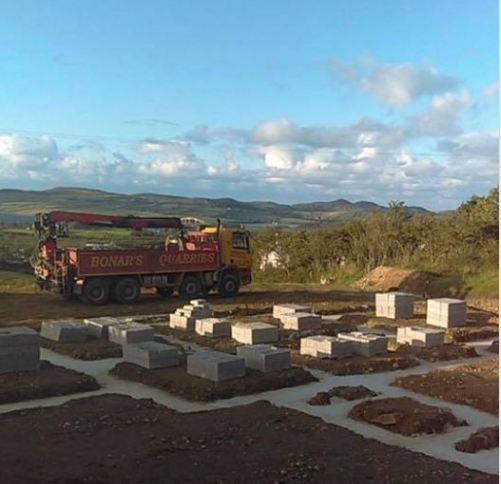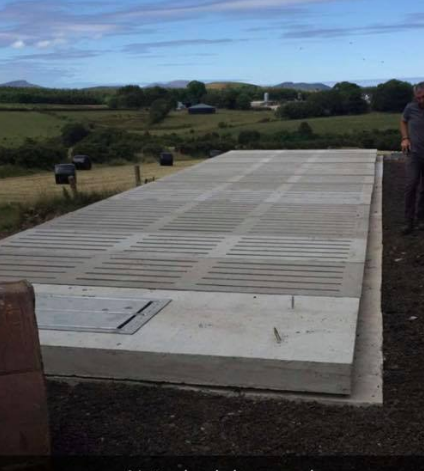 Slats
Slats are made to order.
They come in different sizes up to 13'.
Suitable for both cattle and sheep.
Currently we have no specification for our precast products.
Ready Mix & Pump Concrete
We manufacture a vast range of Ready Mix Concrete Mixes using a combination of Cement + Aggregates Source from our own quarry.
Sand sourced locally and admixtures. We can also manufacture concrete using GGBS, Fibres, Pigment and Air entrainment to add improved performance and other characteristics to the concrete.
A range of Compressive Strength from Caolas to C40/50 is available in a range of aggregate sizes.
Pump mixes have increased workability.
Special mix designs can be designed and supplied to meet our customer needs.
All our concrete mixes are designed and manufactured to comply with the performance specification to produce the desired strength durability, workability, finish and appearance and to meet and exceed the design life.
Technical Specification:
I.S. EN206 – Specification, Performance, Production & Conformity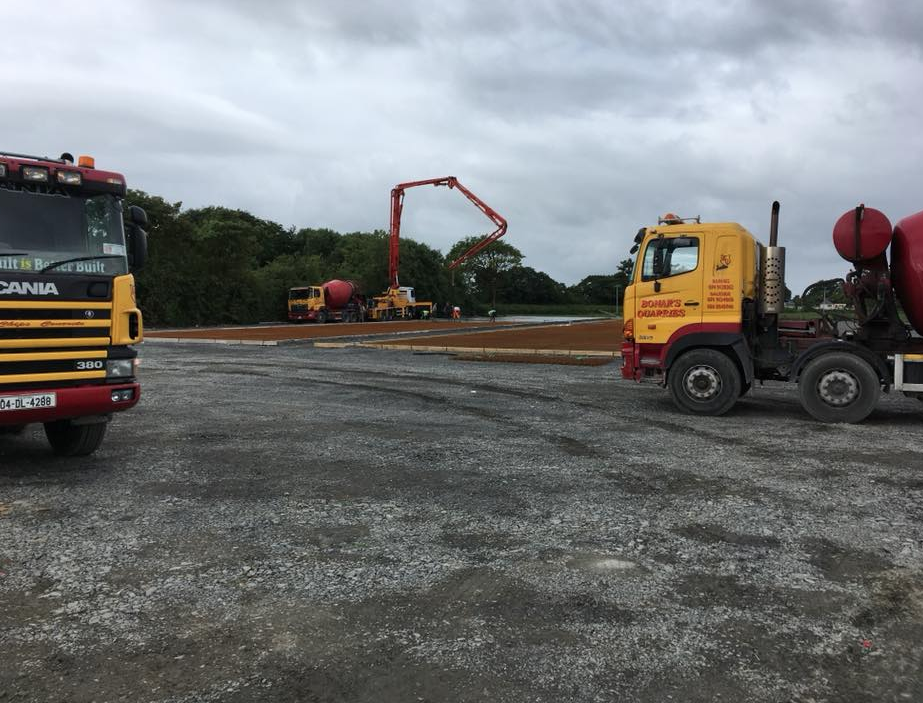 Farmcrete
Farmcrete Concrete Mixes are specifically designed for use in construction of Farmyards, Roadways, Milking Parlours, Livestock Buildings & Silage Pits.
The farm environment places severe demands on concrete due to the aggressive nature of silage effluent animal waste and heavy agricultural machinery.
Bonar's Quarry has built up experience in supplying the sector and continue to expand their reputation for quality, expertise, reliability and service.
Technical Spec
I.S. EN206-1: Specification, Performance, Production & Conformity
Specification for all grades in Agricultural Structures, Depart. of Agri, Food & Marine, Livestock Buildings & Tanks.
Specification for Dept, of Agri, Food & Marine
4SN 35/45 Farmcrete
Concrete for use in Walled Silos, Silo Slabs, Silage Apron, Silo Channels, Purpose Built Silage Effluent Tanks.
Min Cement Content: 360kgs / m3
Max Water / Cement Ratio: 0.5
Exposure Classes XA3, XC4, XF3 (25 year life)
Max Aggregate Size: 20mm
37N (30/37 Farmcrete
Concrete for use in: All Purposes including Slurry Tanks to which Silage Effluent may be directed.
Min Cement Content : 310kgs/m3
Max Water Cement Ratio: 0.55
Exposure Classes: XC4, CF2, XF3, XA1 (25 year life)
Max Aggregates Size : 20mm
Floor Screeds
Sand Cement Floor Screeds are a more traditional and well established Screed option comprising of sand and cement mixed in different ratios.
Admixtures and Fiber Mesh can be added to floor screeds to make it reinforced which improves the performance of the screed.
Floor Screed can be delivered to site in a tipper body or in a mixer lorry. It can also be collected ex-yard from both our plants.
Quick Floor Screed
This is a self compacting, flowing liquid screed that provides a quick, smooth and level surface with minimal leveling.
This screed is designed for interior floors where floor will be covered or tiled. This flow screed is suitable for under floor heating,
Produced in our Drumkeen Plant only it is delivered to site on a ready mix lorry, ready for pumping.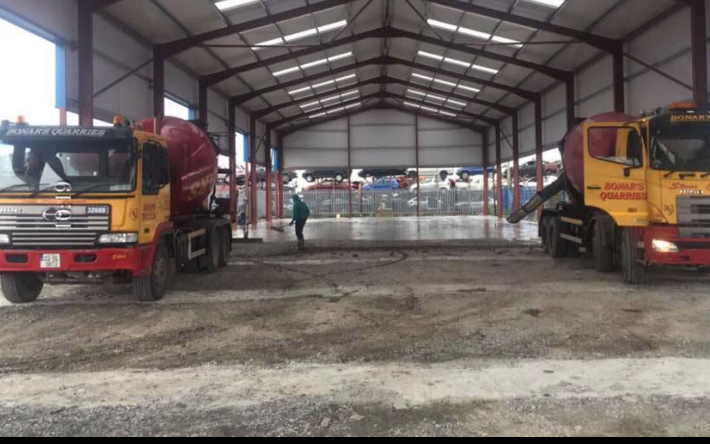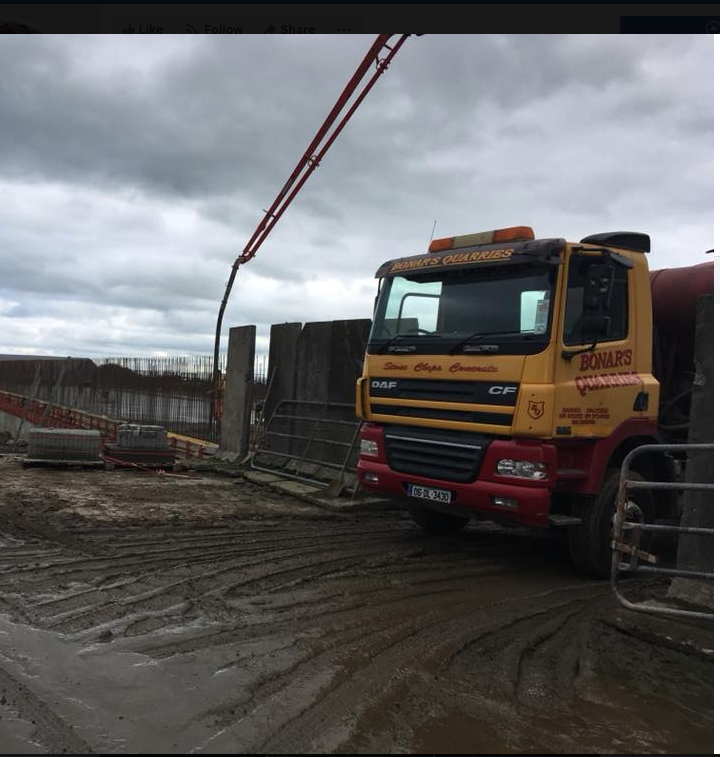 Aggregates
Aggregates are produced at our Mountain Top Quarry by means of Blasting, Crushing, Screening and Washing into the required sizes.
Aggregates are used in our readymix concrete & blocks. We supply stones from all sizes from the beginning of a new site where large stones are required to finishing off a street with a small chip.
Technical Spec
EN: 12620 Aggregates for concrete (S.R.16)
EN:13242 Aggregates for use in civil engineering works & road construction (system 2+)